Hello everyone,
Hope you are doing well and feeling refreshed after the weekend.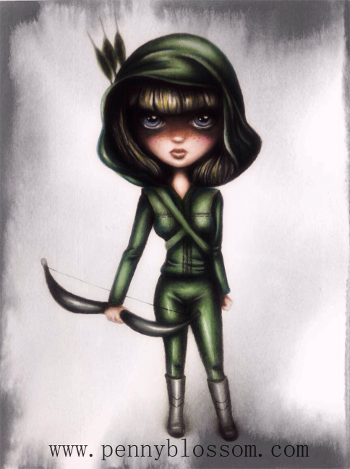 I am very happy to share with you another one of my digital stamps which you can download for free from the freebies section here. 'Vigilante' is inspired by the TV series 'Arrow'. So I dedicate it to all the Arrow fans out there 🙂 🙂 I wanted to come up with a female version of this character! Enjoy this new stamp and I encourage you to be creative and use it in original ways as part of your cards and crafts 🙂
I coloured the image with Prismacolor pencils but this time I didn't use the odorless solvent. I just used the pencils on their own as I wanted a bolder effect to bring out the dark and nocturnal characteristics that surround the vigilante. If you have a look at the digi you might also notice that the face appears wider than the one in my coloured version (in reality it is not!). That is done on purpose to allow for heavy shadows around the face since the hood casts a lot of dark shadow so you would need to use dark colours sparingly in this area. For my coloured version I used the no-line technique which eliminates the dark outline around the image.
I hope you will enjoy it and please share it with your friends. I wish you all a very good week 🙂
Hugs,
Christine x x x