Hey people,
How are you? Hope you're all doing well!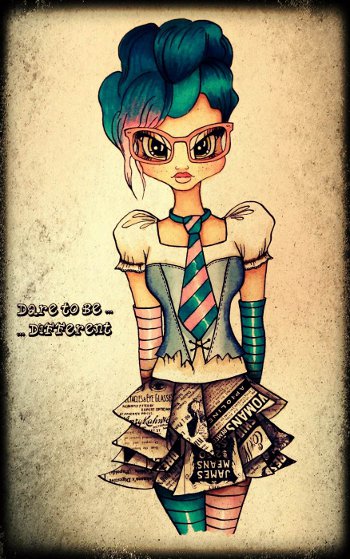 I haven't been much in touch lately. Had an extremely busy spell!! And more busy weeks to come! But my weeks were varied. I had to do work on paintings, took part in an exhibition, read some really interesting stuff, worked on my studies and at least enjoyed some nice warm sun in the process 🙂
To make up for my absence I made sure to find some time to draw a new character for all of you to enjoy! 'Dare to be different'!! You can download this freebie here. Hope you like it 🙂 It is so nice to celebrate what makes us unique and special. I really admire those individuals who are not scared to be different and be happy with who they are. I think this is a different form of creativity. We are all equipped with so many great qualities that it would be such a waste to imitate and replicate lives of others. What makes you special? Let us dedicate the next few weeks to focus on what makes us beautifully different.
I wish you all a good week. May it be positive and bright! Don't forget to take some time away from your busy schedule and think about what makes you special 🙂
Take good care!
Hugs,
Christine x x