Hello people,
Hope you had a great week!
I've had yet another busy week and I also focused a bit on organizing and decluttering my mind because my to-do list is increasing exponentially!! Feeling overwhelmed kind of works against you so it was time to stop, calm down, move back, and write down everything! How do you tackle feeling overwhelmed? I have stumbled across a blog which suggests a simple and effective way how to organize your week and plan around your different life areas. If you're feeling slightly out of control and somewhat lacking behind just have courage and go through these steps which will slowly get you back on track 🙂 I thank the author for sharing this guide 🙂
This week I managed to fit in a few minutes to make a bookmark. Honestly, I always run out of bookmarks . . . I have so many types, my favourite being a metal angel . . . which has designs like a stencil . . .it is attached to a white chord. . . super cute 🙂 I decided to make a corner bookmark this time. Just love these! You can dress them up however you like and they make cute handmade gifts for a teacher, a librarian, a bookworm friend 🙂 there are many templates for these bookmarks. I followed a simple one which you can find here.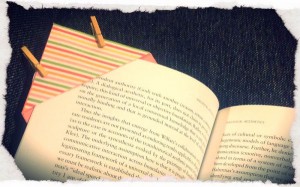 I used part of my digistamp 'Hang in There', used small wooden pegs, a ribbon, a printed quote and embossed the bottom part for some texture! It is important to keep your decorations as flat as possible so that your book can close properly. It only took me a few minutes to make so do try it out 🙂
Wishing you all a lovely weekend 🙂
Take care and hugs,
Christine x x x